The last stop in Colombia was the Diocese of Arauca. This area is especially dedicated to the Virgin of Czestochowa, as the bishop of the diocese, Monsignor Jaime Muñoz Pedroza, some years ago saw the need to ask Our Lady to help heal the deep wounds
left by the conflict between the government and the guerrilla, and there is none better than the Virgin that shows on Her face the pain and the cuts.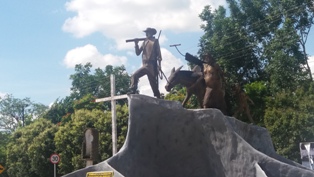 Arauca is a border department with Venezuela, the Arauca River allows this land to be especially fertile for rice and cacao plantations. It is also good for breeding cattle and has numerous oil wells. That is, Arauca has been blessed by God. Unfortunately, guerrilla groups, such as the FARC and the ELN, have made the population that does not exceed 250,000 inhabitants suffer very much.
In the capital of the department, which has the same name, Lech Kowalewski, the international coordinator of the pilgrimage,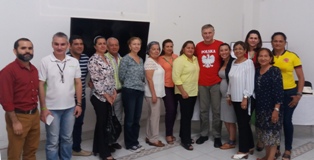 had the opportunity to meet both the bishop and people who are contributing financially to the construction of a sanctuary in honor of the Mother of God. He also met with the media to publicize the From Ocean to Ocean initiative and with a group of priests appointed by the bishop to help with the pilgrimage of the Czestochowa Icon in Colombia.
During the days that Lech stayed in Arauca he was able to converse with the bishop of the diocese a number of times.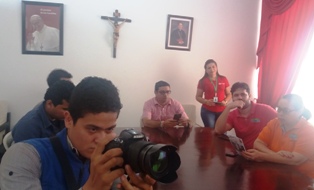 This trip was really providential as Monseñor Muñoz knew the pilgrim Icon for about six months now and has expressed his wish for the Blessed Virgin to visit Colombia and his diocese. "It is possible that like Her, our wounds will not be healed physically, but the most important thing is spiritual healing, and help Our Lady gives us, She will know how to guide us to her Son," said Bishop Muñoz.
It was interesting to know that an image of the Virgin of Czestochowa is visiting the parishes and communities of the area at present. The diocese has prepared prayers, novenas and songs to help to make the image of Our Lady of Czestochowa known. This was very encouraging, because in this way the faithful are also preparing for the arrival of the pilgrim Icon.